Sunday, September 28th, 2014 at 1:03 pm
Wednesday, June 18th, 2014 at 9:13 am
For a lot of folks, I have one of those 'dream jobs'. One of the major income streams I have is watching porn and writing descriptions for the actions involved. I've watched and written about a number of different porn genres, some of which falls into the 'taboo' realm. I've worked on revenge porn (scripted and consensual porn flicks designed to look like the non-consensual and often illegal version), rape porn (again – scripted and consensual that looks otherwise), and prolapse porn. Your kink is not my usual kink, and it kind of intrigues me, but your kink is certainly something I'll work with.
Then there are certain niches that I outright refuse to work on. I won't do anything with children (even the computer generated child movies), dead bodies, animals, or consumption of blood, scat or urine. Luckily, they are ether illegal or difficult to get payment processing for, so I don't get much demand for them. Your kink is not my kink, and your kink won't ever appear on my invoices.
But – there is a grey area for me. Where your kink is not my kink, I'm actively turned off by your kink, but I will still work on that material. I'm not talking just a dislike for the material. I'm talking about working with these niches gives me a physical reaction that is not only unpleasant, but constantly makes me question if I'm charging enough money for my time. There are three that hit the top of that list that seem to come into my inbox on a somewhat regular basis.
Friday, May 30th, 2014 at 1:27 pm
Before I started writing this, I picked up the closest book to where I'm sitting. For me, it happens to be "Star Wars – Tales from Jabba's Palace" that toddler brought me from my bookshelf. This book has a number of features that helps classify the writing inside.
There's the title in the characteristic Star Wars font across the top. If I didn't like Star Wars, I probably wouldn't have read this book. That title on the cover page in no way disallows me from reading it. I would simply choose not to.
There's an editor name – Kevin J Anderson. If I didn't like Kevin's work, I probably wouldn't have read this collection of stories. His name on the cover in no way disallows me from reading it. I would simply choose not to.
There's a price on the back – £4.99. If I didn't agree with that price, I probably wouldn't have bought it. That price listing on the cover in no way disallows me from reading it. I would simply choose not to.
While this collection of short sci fi stories does not contain a trigger warning, just like the other descriptors listed above, it would not disallow me from reading it. I would simply choose not to.
Even if I did choose not to, those descriptors wouldn't prevent you from reading it, either.
Listing a title, author's name or book price is not censorship. Listing a trigger warning isn't censorship either. It's simply a way to classify the text inside. For some, this 'controversial' descriptor is more necessary than for others.
A lot of what I've said above is echoed in this post from "Sometimes, it's just a cigar", where jemima2013 goes on to say that "The idea suggested by the Guardian that trigger warnings are censorship is just laughable…" I'd take it a step further – to say that it's insulting to those dealing with actual censorship (the practice of officially examining books, movies, etc., and suppressing unacceptable parts) issues.
I think that's what's upset me the most about the 'anti-trigger-warning' posse. You'll keep your WordPress blogs and Facebook accounts and post your videos to YouTube, but heaven forbid if someone wants to get a warning that there's a rape scene in the text they're about to read.
But there's another argument that I've seen echoed in some circles – the 'slippery slope' of trigger warnings as a future method of censorship. Adding that descriptor as possibly triggering to rape victims, military veterans, child abuse survivors, or any other group which may have an adverse reaction to the material could be used to suppress the material from the general public.
Sure, that could happen. So could book burnings based on a title, or author name, or price range. Why do we not call for the removal of those descriptors, as well? It's because those descriptions serve a valuable function, just as trigger warnings do.
I also worry that the specific issue highlighted in the Guardian & New York Times piece is getting blown way out of proportion. (I've called it the Chicken Little Syndrome in the past.) Groups of students at some American universities are asking that trigger warnings be placed on the course syllabus.
They are not asking for these books to be removed from the course or from the university itself.
They are not calling for publishers to have mandatory trigger warnings on all texts.
They are not asking for these books to have 'ratings' which prevents the sale of these books to certain age groups, demographics or locations.
They are requesting additional information so they can make informed decisions about their reading.
For those who are saying "well surely no one needs trigger warnings on the classics / well known authors / usual college standard fare (because everyone already knows what's going on with those books)" – check your privilege.
For those who think that trigger warnings aren't necessary because "life is traumatic" – check it again.
Trigger warnings have a valid place in written material, just as the title, author name, and price listing do. I do find it rather strange that those who want to banish trigger warnings from existence are doing so on the basis of those warnings censoring the works. The ones making the fuss are in fact suppressing what they have deemed 'unacceptable parts' themselves.
Saturday, May 17th, 2014 at 7:06 pm
Image is clickable.
Since so many have asked how this image was taken, I'm updating this post. Mrs has a Canon Rebel T2i and used a basic 55m lens using manual focus to zero in on my chin. She lowered the camera right to the same level as the water – the base of the camera was as close to the bathwater as possible. The reflection in the water naturally occurred but by adjusting the brightness, contrast, and saturation in the photo I was able to bring it out more. I also wore rather dark lipstick so that my features didn't completely wash out with the contrast changes. Hope that helps! 
See who else is being sinful this week.
Tuesday, May 13th, 2014 at 7:30 pm
Doing my community duty and giving you a head's up to something I came across today. I was contacted today by a sex toy retailer that I use as a sponsor for some of my affiliate sites. They were switching tracking programs and moving to Webgains.com, and I had less than 24 hours to swap out my links. I hurried over to the signup page on Webgains and their TOS was displayed part way through the process:
The highlighted portion of the TOS was my concern. Let's review the two main hiccups.
Pornography – I know quite a few sex toy blogs also feature porn site advertisements. (And why not? Sex toys and porn go together so well!) If you have porn clips, porn sidebar ads or anything else deemed 'pornographic', you're violating this TOS. If you have sexual images of yourself using said toys, this may be considered pornographic.
Obscene – What a huge grey area this word is! In the past I've seen this language in a TOS used to violate sites that have full frontal nudity and sexual imagery – even erotic texts.
Nevermind "offensive". Anything can be offensive, can't it?
So what happens if you violate a TOS on Webgains?
Pretty self explanatory. You're booted out of the program with zero obligation for Webgains to send you any unpaid funds it holds. (This is a common clause in most affiliate program TOSs, by the way.)
At any rate, if you planned on joining Webgains you may want to keep this in mind. I did get in contact with the sponsoring program to discuss my concerns with this TOS. I was told "you will be fine – Webgains have said they will push through all account requests that come through…", but I've heard this song and dance before. Shortly afterward, Webgains did email me directly, reiterating the fact that they would "ensure that [I was] accepted onto the network". My worry isn't getting into the program – it's staying in it and getting paid, even with the pornography and obscene material on my sites!
While they did mention that  "they are in the process of updating [their] TOS to allow more flexibility for […] our adult publishers", I know that these TOS changes can certainly take some time, especially when lawyers are involved. I've asked them to let me know when this TOS change is in place, and will update this post accordingly.
June 10, 2014 – UPDATE: After being contacted once again by Webgains asking me to swap over my links I emailed asking if the TOS was now allowing pornographic materials. The affiliate manager confirmed that this is the new language in the TOS.
"5.4.         You warrant that the affiliate website does not display or transfer any material which is obscene, racist, offensive, defamatory, threatening, blasphemous or in breach of any third party Intellectual Property Right(s), provided that websites and campaigns that include pornographic or adult content which is not obscene are permitted but only where affiliate' products and/or services are also categorised as pornographic or adult content, but not obscene, and only such affiliates are permitted to join such programs with such advertisers."
I then asked for clarification as to what the word 'obscene' means to Webgains, and got this reply.
"So obscene for us is the following; under-age content, racist, offensive, defamatory, threatening or blasphemous."
It appears Webgains is now allowing websites with pornographic materials, but with a few catches. First, you can only use your 'adult' sites to promote 'adult' products. You cannot use your adult site to promote 'mainstream' products. This might get iffy when it comes to items like lingerie and performance-related pharmaceuticals, as they straddle that adult / mainstream divide. But, for purely sex toys, I'd look at this updated TOS and be comfortable using them.
Saturday, May 10th, 2014 at 10:00 am
Saturday, May 3rd, 2014 at 10:13 pm
I don't typically post two images from the same shoot for Sinful Sunday, but the theme this week works so well with the pictures I took last week of Mrs Goodnight wearing her packing dildo. I asked Mrs what she thought about the terms 'masculine' when it comes to packing, this is what she had to say.
"Wearing a packer shows 'my' masculine side. I still consider myself a woman, and I don't want to change that. I'm just not a girly type of woman. Wearing a packing dildo makes me feel different in a good sort of way. It's a different side of me that I can connect with that I haven't been able to before. It gives me a different kind of confidence."
The image is clickable.
Monday, April 28th, 2014 at 8:19 pm
I was actually going to go in a completely different direction with this post, but I had a conversation this morning that reinforced the concept of 'full circle' in my head much more than the original relationship I was going to discuss.
Back in college, I had a crush on a guy, who I'll call Ethan for the sake of this discussion. Ethan and I lived in the same building for two years – the first year I spent crushing on him from afar, and the second a more direct flirtation on both sides. A two year crush-build was pretty much unheard of for me at the time. My relationships moved fast, so the back and forth I had with Ethan was pretty intense, mentally. I hated that 'I don't know if you like me or not' thing – still do now. It was during the third year, when he had moved out of the dorms, that we finally 'hooked up' – after I had enough of waiting for him to chase me and took control myself.
At that time, I was working and living the BDSM lifestyle. I was actively poly, had other Tops and lovers, and Ethan knew that. He knew I was kinky, and tried to satisfy that side of my sex life. He wasn't what I would consider an established Top. He was dominant, but didn't know what to do with it. The problem I had throughout this relationship is that I never knew where I stood. That same 'I don't know if you like me or not' thing that I hated during our flirtation before fucking continued. Mixed signals are hard for 35-year-old-me to deal with. For 20-year-old me it was just a huge mindfuck.
Saturday, April 26th, 2014 at 11:16 pm
Mrs Goodnight has been exploring her gender identity in recent weeks, and has started wearing a packing dildo when she's not at work. I happened to look over one afternoon and saw the head of her cock sticking out of her underwear. Held back my desire to reach out and give it a lick, instead heading for the camera.
If you would like to use this image for Exhibit Unadorned's Sinful Stories writing prompt, you do have both my and Mrs Goodnight's permission to do so. We kindly ask for credit in your blog post with a link back to this page in return for the use of the image. Good luck with your entry, and happy Sinful Sunday!
Wednesday, April 16th, 2014 at 8:25 am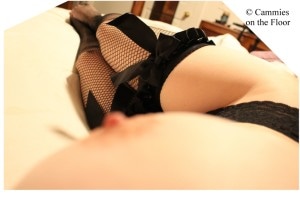 Photo courtesy of Cammies on the Floor
The only place where the smartest and hottest sex bloggers are featured under one roof every month. Whether you're looking for sex journalism, erotic writing, relationship advice or kinky discussions it'll be here at Elust. Want to be included in Elust #58? Start with the rules, come back May 1st to submit something and subscribe to the RSS feed for updates!
~ This Month's Top Three Posts ~
I've always wanted to call myself queer.
~ Featured Post (Molly's Picks) ~
Aoyama Yuki and My Very First Times
~ Readers Choice from Sexbytes ~
*You really should consider adding your popular posts here too*
All blogs that have a submission in this edition must re-post this digest from tip-to-toe on their blogs within 7 days. Re-posting the photo is optional and the use of the "read more…" tag is allowable after this point. Thank you, and enjoy!